SCRIPT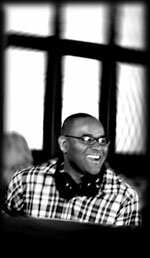 Writing the screenplay.
(Examples of successful screenplays are posted on topwritingservice.com)
Although friends Kris Kristensen and Brian McDonald had collaborated as co-producers on their award winning short film White Face,

Inheritance

was the first time that the duo had collaborated on a screenplay. The first draft of

Inheritance

was written in only six weeks, using a tag team technique.
Initially they mapped out the waypoints for the story, sketched out the main characters, and decided on a central theme. "We basically leap-frogged scenes," explains Kristensen. "We would discuss what the next scene was about, why it existed, what it's purpose in the story was, then for instance, I would take a crack at it. After I was done, Brian would come in and evaluate it and maybe polish it if it needed it. Then we would discuss the next scene in detail, and this time Brian would write it, and then I would do the evaluation and polish if necessary."
McDonald added "Sometimes one of us would sit down to write their scene, but the juices just weren't flowing. We'd discuss it again, and then the person who wasn't supposed to write the scene would go 'Oh, I know how to do it,' and then we'd switch off on the next scene instead."
After the script was completed, the writers had a reading with actors before an audience. It was very well received and the authors had to drag any sort of negative feedback out of the viewers, but finally after about 45 minutes they uncovered some issues with one of the supporting characters. "People either seemed to think that Abbey's boyfriend was either a bastard or a saint," tells Kristensen. "Other than that, people really seemed to enjoy it." At the reading, actress Jen Taylor (who would eventually play Abbey) told the writers the script made her cry the first time that she read it.
Kristensen and McDonald spent a few days polishing based on some of the feedback that they received, and then submitted it to the Austin Heart of Film Festival, where the script finished as a semi-finalist. When they arrived in Austin, they were greeted by the festival co-founder. She introduced herself and asked what script they had written. "When we told her that we had written

Inheritance

her jaw dropped. Becauase of the strong female protagonist and antagonist, she had presumed that the script had been written by women." McDonald concluded "That's probably the biggest compliment that we get, and we've received it more than once. It means that we wrote some three dimensional characters as opposed to stereotypes."
Kristensen and McDonald loved working with each other, "It was so easy working with each other," said Kristensen. "Yeah," added McDonald, "It was always about the story. If we read one another's scenes and said that it didn't work, as long as we could justify our reasons to the person who wrote it, there was never an argument about rewriting it." As

Inheritance

is finishing up in post, Kristensen and McDonald are gearing up for their next screenplay.
Help

Inheritance

get distribution.